It's a yearly Thanksgiving Day tradition: Millions of spectators crammed onto long city blocks, hanging over barricades and balconies or pressed against the windows of towering office buildings to watch giant balloons, depicting cartoon characters like Pikachu, hovering just a few feet above the street.
But this year, as with everything in 2020, the Macy's Thanksgiving Day Parade, a ritual marker of the holiday, was drastically different.
Because of the threat of the coronavirus, much of the parade in Manhattan was scaled down and pre taped for the television airing. The route was reduced from two miles to a single block down 34th Street, near the flagship department store.
There were no high school bands. Instead of the usual 2,000 balloon handlers there were only about 130.
Masked handlers wait to raise and fly large balloons at the Macy's Thanksgiving Day Parade on November 26, 2020 in New York City. While the the annual holiday parade usually draws thousands of onlookers, much of the celebration was prerecorded and scaled back due to the continuing COVID-19 pandemic.
Police barricades kept the public at least two blocks away from the staging area. The streets beyond the parade route remained largely empty.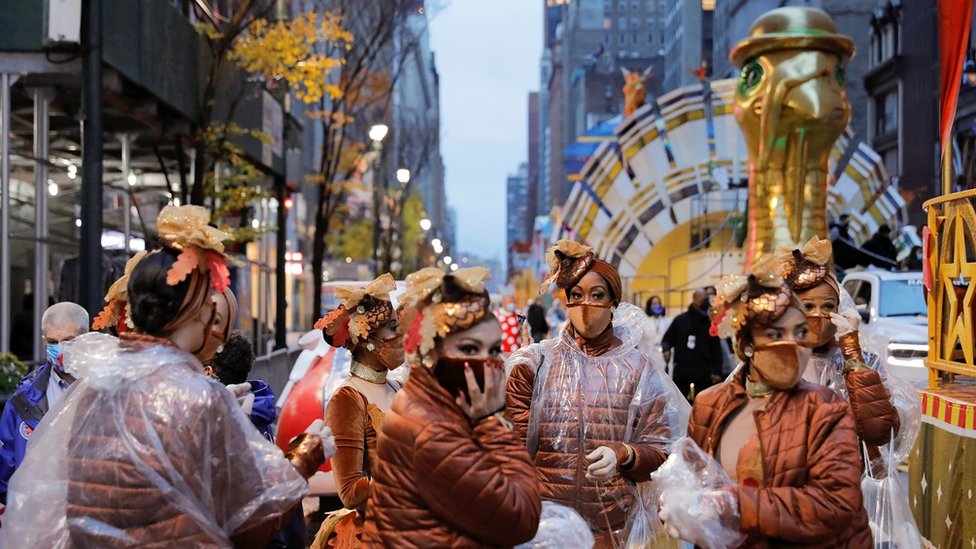 There were some familiar balloon faces, of course, including Snoopy, Ronald McDonald, and SpongeBob SquarePants.
But the bigger balloons were missing the numerous handlers who would normally be walking underneath and holding the ropes. This year, they were attached to vehicles that kept them moving and decreased the number of people needed.
Even with the pandemic protocols, the fact that the parade took place made it a rare festivity in a city that has seen most of its major events cancelled over the last year because of the virus.
Inspired by:
Jan Ransom - NY Times
Read more